To work in New Zealand as a doctor, you need to be registered with the Medical Council of New Zealand (MCNZ). There are over 17,000 doctors practising in New Zealand, with 40% of them coming from overseas and around 1,500 new doctors registering with the MCNZ each year.
The registration process is generally straightforward, however, there are some nuances that overseas doctors need to keep in mind when relocating to New Zealand. To help you understand the requirements and the various pathways you can take, here is what you need to know about how to register as a doctor in New Zealand.
What are the Requirements to Register as a Doctor in New Zealand?
Regardless of the pathway, there are some standard requirements to register as a doctor in New Zealand. They are:
Fitness for registration
When filling in your registration application forms, you will need to answer several 'fitness for registration' questions designed to identify any health conduct or competence issues. These are similar to the questions that registered doctors answer as part of their annual practising certificate renewal. Your responses and the information given by your referees and other regulatory authorities will help the MCNZ determine if you are fit to practice in New Zealand.
English language communication skills
If English is not your first language, you may need to sit a test of your English language abilities. Note that if you have worked in an English-speaking country for at least two years within the five years prior to your application, you may be exempt (Triple0 can provide you with more information on this if needed).
You must pass either the International English Language Testing System (IELTS) English test (and achieve the minimum scores of 7.5 for the Speaking and Listening components and 7.0 for Writing and Reading) or the Occupational English Test (OET) Medical Module (and achieve a minimum of a 'B' grade for each component).
Electronic Portfolio of International Credentials
If you hold an international medical qualification, the MCNZ requires you to have certain documents verified by the Educational Commission for Foreign Medical Graduates through their primary-source verification service, EPIC.
You will need to have your documents primary-source verified if you are:
A first-time applicant for registration and have never held any other form of registration
Registered with the MCNZ but are applying for registration in a new scope of practice that relies on a qualification that hasn't been assessed previously
Acceptable primary medical qualifications
You must have a recognised primary medical qualification from a medical school listed on the World Directory of Medical Schools.
Statutory declarations and certified copies
When you're applying for registration, sometimes you will be asked to provide a Statutory Declaration or a Certified Copy of a document that you're relying upon as part of your application.
A registration interview
Another key part of the New Zealand Medical Council registration requirements is to attend an interview, which will be conducted by an MCNZ staff member or agent in Auckland, Wellington, Christchurch or Dunedin. At the interview, you will confirm your identity, be asked about your practice intentions and provide your original documents. The interviewer will also explain your supervision requirements.
Examination
Most doctors who have qualified and worked in countries with comparable health systems, such as the UK or Australia, are not required to sit any exams to gain registration, but if you are not eligible for registration under any other pathway, you will need to sit and pass the NZREX Clinical examination.
Supervision
Supervision is an MCNZ requirement for all new registrants (with the exception of Australian graduates). The supervisor will help ensure you have the knowledge, skills and attitude necessary to practice safely in New Zealand. This is an excellent way to integrate and learn more about working as a doctor in New Zealand. The Triple0 team can organise the supervision arrangements for you.
Registration Pathways for Overseas Doctors
The MCNZ uses pathways to streamline the registration applications they receive, and there are a number of registration pathways for overseas doctors available. The pathway you will take is determined by factors such as work intentions and the type of education and experience you have.
There are key scopes of registration, each with differing criteria and multiple application pathways within them. Triple0 will help you understand the various registration pathways and explain the requirements to you.
The scopes are:
General Scope: This typically applies to resident doctors, resident medical officers (RMO) and doctors undergoing vocational training.
Vocational Scope: This is a form of permanent, specialist registration that allows you to work independently in New Zealand.
Special Purpose Scope: This is a temporary form of registration designed for doctors who want to work in New Zealand for a specific purpose, such as further training, research or disaster assistance.
You can learn more about the individual pathways within each scope and how to determine which option is right for you by visiting the Registration Pathways page on our website.
How to Apply for Your Doctor Registration in New Zealand
Registration applications generally take around 20 working days to process. When you apply for your doctor registration in New Zealand, keep in mind that most pathways to non-specialist registration require you to have a job offer in New Zealand before you submit your application. If you're considering relocating to New Zealand as a doctor, our team of specialist Medical recruitment consultants can help you find the right position and assist you with the registration requirements.
The specific registration process you'll follow depends on which registration pathway you go through, however, it will generally involve the basic steps below.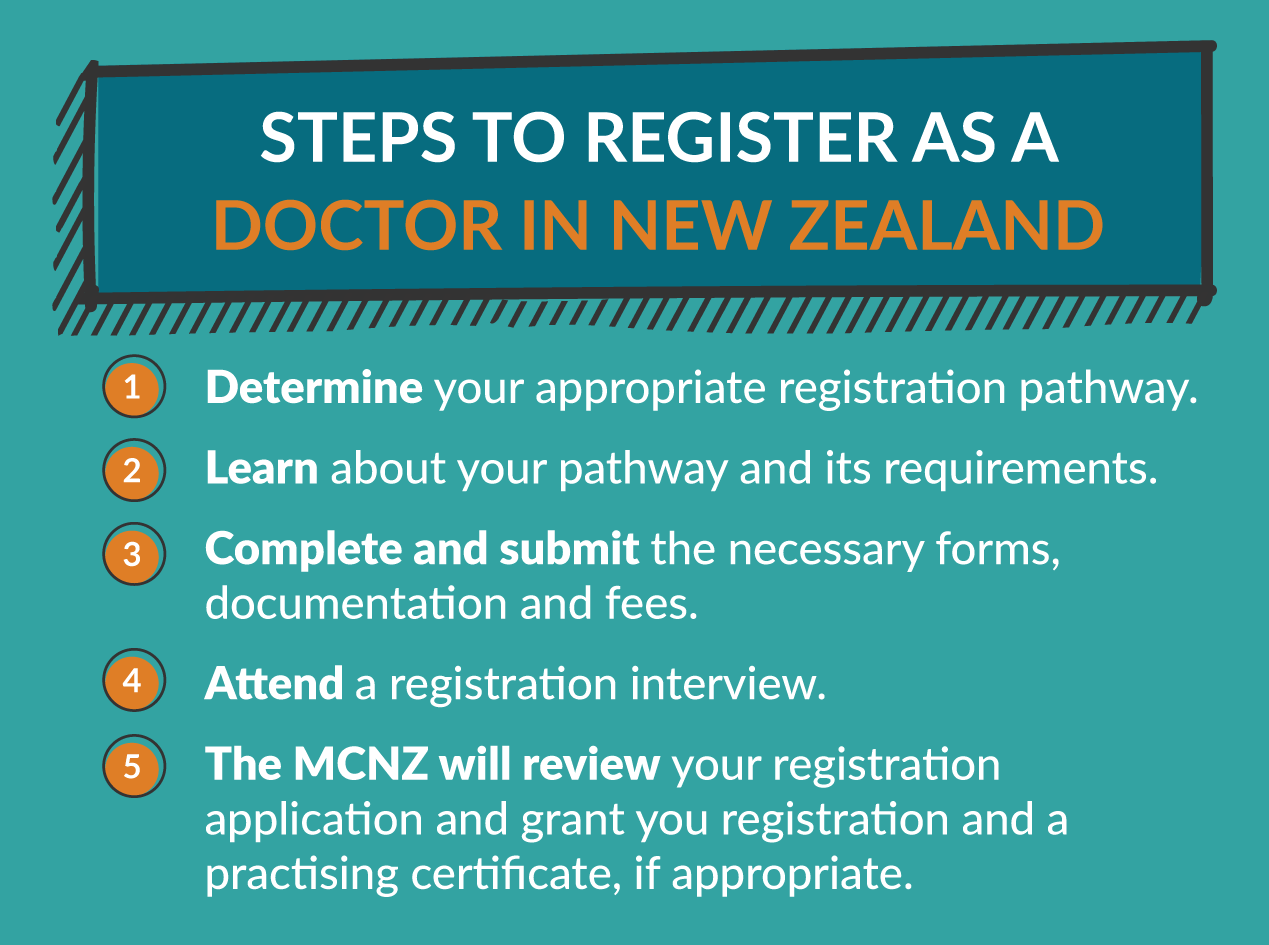 Relocating to New Zealand as a Doctor: Get Started Today
If you're considering relocating to New Zealand to grow your medical career, the team at Triple0 is here to support you through each stage of the move, from verifying your eligibility and supporting you to gain your registration, to securing a medical job opportunity and helping you apply for a work visa or work permit.
Whether you're in search of a locum job or a permanent role, we will submit your CV to employers in your chosen location, manage reference checks, provide information on the hospital/facility to help you prepare, organise any travel or interviews, and assist in the negotiation of your contract and incentives. Once you accept a job offer, our candidate care coordinators will work with you on relocating and will be available to guide and advise you every step of the way. To learn more about what you can expect when relocating to New Zealand, click the button below.

Having been providing Medical recruitment services in New Zealand for more than two decades, we have extensive experience with the international doctor relocation process and will always go the extra mile to ensure your big move is as positive and hassle-free as possible. Get in touch with us today or register your details to begin your journey.