Down Under, where the people are carefree and toilets flush the wrong way (so they say). For UK natives looking at moving overseas, New Zealand can seem like the idealised version of their homeland, but with fewer people and considerably more references to "The Lord of the Rings". While Australia does have its advantages, we think you can't beat the laid-back lifestyle, friendly locals and diverse landscapes that New Zealand has to offer (also, no venomous snakes – really can't stress that enough).
If you're an international doctor weighing up a big move and trying to decide if New Zealand is right for you, we recently released a guide on Moving Down Under as a Doctor to help you do just that. To get you thinking more about your options, here are five reasons why relocating to New Zealand is a better choice than its larger Antipodean counterpart.
1. Safety

According to the IEP Global Peace Index, New Zealand is the second-most peaceful nation on the planet behind only Iceland, and is defined by feelings of safety, a lack of ongoing conflict and a lack of militarisation. Australia, meanwhile, is down in 13th place.
More importantly, you can go bushwalking (that is, hiking) around New Zealand without fear of getting eaten by something. Or baked alive in 40-degree heat. Or finding giant spiders in your boots!
2. A Moderate Climate
If you enjoy variety in your weather and don't want to fight the soaring heat that Australia is famous for, New Zealand is a fabulous place to live. It's a reasonably long country which means quite different climates at each end, ranging from subtropical Northland to the snowy winters and cool ocean breezes of Southland.
In general, summer is usually bright and warm, with plenty of beach weather but also the odd cool day to keep you sane. Winter, meanwhile, is relatively mild in many regions, but there is still plenty of snow in parts of the country to go skiing and snowboarding.
3. Lower Living Costs
Using data from Budget Direct to compare Auckland versus Sydney, we can see that average costs for rent, restaurants, basic utilities and public transport are all slightly cheaper in New Zealand.
Of course, as you start to look at smaller cities and rural areas the numbers can shift, so it does pay to do a little research if you've got your eye on a particular destination (check out our guide to relocating to New Zealand and our location guide to get started).

4. Diverse Tourism
New Zealand offers a wide range of tourist attractions for pretty much every taste on the planet. Adrenalin junkies, history buffs, wine aficionados, road trippers, cultural explorers – there's something for everyone.
Tourist attractions are easily accessible in New Zealand, particularly compared to Australia where you really have to put the miles in to get to the top hotspots. In New Zealand, you can drive from towering 150-metre sand dunes to geothermal steam vents, Hobbiton from "The Lord of the Rings" (just watch out for Ringwraiths), ski fields and glorious wine country in just a weekend!
5. Better Quality of Life
Ok, we admit we might be a little biased on this one, but there's no denying that the quality of life in New Zealand is high. In addition to aspects such as safety and leisure that we have discussed already, New Zealand is well known for having a high quality of both education and health care.
HSBC's Expat Explorer Survey ranks New Zealand near the top for 'Living,' which encompasses quality of life, wellbeing, community, political stability, the ease of settling in and making friends, as well as education.
Living: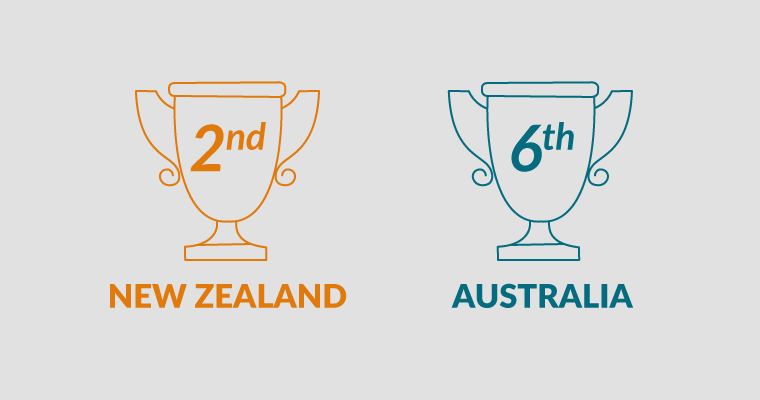 Summary
Considering making the move Down Under? We're here to help. Download our guide on Moving Down Under as a Doctor: New Zealand vs. Australia for more reasons why New Zealand should be your first choice, a detailed profile of the country and comparisons on other key considerations such as visas and immigration.

Also, don't forget to download our location guide for information on the best places to live in New Zealand as a doctor, and read our comprehensive guide to moving to New Zealand for advice on relocating, what to expect and a breakdown of each stage of the process.
If a big move to New Zealand is on your horizon, our local team of experienced Medical recruitment consultants can support you through the whole journey of relocating as a doctor, from finding the right permanent or locum role for you and getting your medical registration, to applying for a work visa. Contact us today to get started.